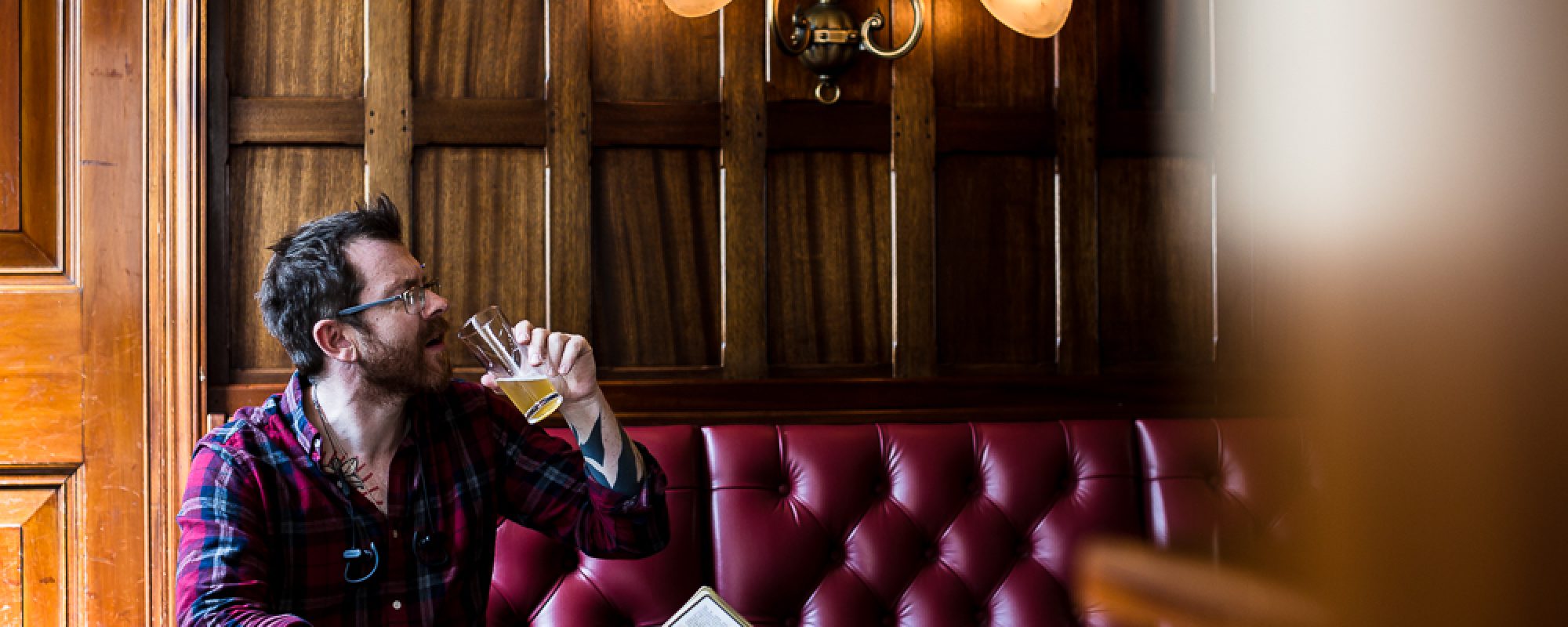 The Sheffield Tap brings you a wide range of craft beers, on-site microbrewery, and a premium wine and spirit selection.
Located within the Grecian architecture of Sheffield Midland Railway Station and lovingly restored to its former glory, we offer 11 traditional handpulls and 14 different keg beers, as well as a large selection of bottles and cans.  Our on-site microbrewery "Tapped Brew Co." brews weekly and the latest freshest beer can be found on our bar.  The highly experienced bar and cellar team are ready to serve you the best beer in the country, so look forward to your next visit.
Our Story
The Sheffield Tap is housed within the former Edwardian Refreshment Room & Dining Rooms of Sheffield Station. The condition you see today is testament to the hard work of Jamie Hawksworth, Jon Holdsworth & team who have spent two years 'cutting through the red tape' and bringing considerable investment to enable the rooms to be restored to their original condition.
The rooms became disused in the 1960's, with final blow being dealt by British Rail in the 1970's when the Refreshment Room was converted into a waiting room. The original mahogany bar top was removed and the damaged front bar pushed to the rear of the room beneath the back bar, and the ornate fireplace and features taken from the building. Over a matter of months the Grade 2 listed interior was vandalised and eventually locked-up in 1976. Since then, the interior had been left to decay with the original ornate plaster ceiling suffering partial collapse due to the leaking roof. In 2008 we were finally able to access the derelict rooms and begin our restoration.
With private investment and grant assistance from The Railway Heritage Trust, we have been able to correct the damage caused by years of abuse. Our foresight was to repair where possible and replicate as required. The ornate barrel plaster ceiling is a complete replica of the previous feature, taken from moulds of the original and handmade by a local contractor. The existing mahogany bar was salvaged from pieces of the original, being rebuilt and polished to the finest detail we could achieve. It is important to note that we are only the caretakers of this building as it is Grade 2 listed and publicly owned, yet we all feel tremendously proud of our personal investment and delighted that it is once again a "very" operational building!
Tapped Brew Co.
Situated in the original First Class Dining Room, adjacent to the main bar of the Sheffield Tap, sits our on-site microbrewery; Tapped Brew Co.  We brew regularly each week on a 4BBL kit and it truly is the best way to enjoy a pint from the bar while enjoying the sights, sounds and smells of a live brew day.  As with the main bar, the building dates back from 1904 and has been restored with great care with assistance from the Railway Heritage Trust.  Today, the Sheffield Tap is one of the finest brew pubs in the country and the dining room has regained its character, charm and life.
The Sheffield Tap always showcases the most recent freshest beer being produced from the brewery, but you can also find our beer at other venues in the group.
Draught Beer & Cider
Updated Nov 26 2022, 1:05 AM
Crackendale 5.2%
Pale Ale - American
Thornbridge Brewery
Single Hopped Citra Pale Ale Crackendale explodes with a fantastic tropical fruit aroma, giving way to guava and ripe citrus which burst through on the palate with a beautiful bitter and sweet balance.
---
Windle 6.2%
Pale Ale - American
Thornbridge Brewery
Golden coloured New World Pale Ale with a strong tropical fruit aroma. Tastes of Guava and Kiwi are present throughout before a light, bitter finish.
---
Stocky Oatmeal Stout 4.7%
Stout - Oatmeal
Thirst Class Ale
Stocky Oatmeal Stout is a smooth and full-bodied stout brewed with no fewer than nine different malts. The recipe includes oats and roasted barley resulting in a silky smooth texture and rich, deep coffee and chocolate flavours.
---
Jaipur 5.9%
IPA - American
Thornbridge Brewery
A citrus dominated India Pale Ale, its immediate impression is soft and smooth yet builds to a crescendo of massive hoppiness accentuated by honey. An enduring, bitter finish. With over 100 worldwide awards, this American style IPA has a complexity of flavours created by a six-dimensional hop experience. Jaipur's hoppiness builds
… Read More
in the mouth and bursts with powerful citrus fruit flavours, culminating in a remarkably smooth finish and making it a deliciously drinkable IPA. Hops - Chinook, Centennial, Ahtanum, Simcoe, Columbus & Cascade Malt - Maris Otter
---
Sleepless 5.4%
IPA - Rye
RedWillow Brewery
This American style amber ale made with red rye and generously hopped with Nelson Sauvin and Amarillo to give lush tropical fruit flavours over a rich malt body and a long satisfying bitter finish.
---
Pyramid Pale 3.9%
Pale Ale - American
Thirst Class Ale
Brewed especially for Stockport Beer Week this American Pale Ale is full of hoppy goodness with Summit and Idaho 7 making the hop charge. Lovely and pale, nicely bitter and flavours of mango and pink grapefruit.
---
Electric Works 4.2%
Pale Ale - XPA (Extra Pale)
Tapped Brew Co
Brewed with 100% extra pale ale malt for a light and crisp body. Hopped with Mosaic and HBC 431 gives Electric Works a nice soft fruit flavour with some tropical hints. Named after the building across the road from our home, The Sheffield Tap.
---
Capability Brown 4.0%
Bitter - Best
Rooster's Brewing Co
A classic best bitter, deep amber in colour and displaying classic English hedgerow hop characteristics harnessed from a blend of Challenger, Fuggles and Whitbread Goldings Variety hops.
---
Mango 4.0%
Cider - Other Fruit
Celtic Marches
The richness of exotic mango has been expertly blended with the juice of our homegrown Herefordshire cider apples. With a lightly balanced sweetness, this smooth and sophisticated crafty drop is an easy drinking taste of the tropics.
---
Nelson Sauvin Pale 4.2%
Pale Ale - English
Brewsmith Beer Ltd
Refreshingly bitter and hoppy pale ale. Vanilla and grapefruit aromas from the Nelson hops
---
Close
Drovers Hazy Vermont Session IPA 4.3%
IPA - Session
Round Corner Brewing
Drovers is our 4.3% ABV Hazy Vermont Session IPA. Massively dry hopped with Lemondrop, Bavaria Mandarina, Citra, Mosaic & Motueka hops creates a juicy tropical-citrus fruit bomb. Generous additions of oats and torrified wheat ensure a silky-smooth palate balanced by a mellow bitterness.
---
Virtuous 4.5%
IPA - Session
Kirkstall Brewery
Our gluten-free, vegan friendly session IPA has a clean citrus aroma that gives way to a fruity hop flavour. Flavours of tropical and citrus fruits, with hints of pine and blueberry are perfectly balanced by its complex malt base, giving it a flavoursome yet refreshing profile.
---
Midna 4.9%
Stout - Other
Wild Weather
A smooth and velvety oatmeal stout with Madagascan vanilla. Wonderfully rich in body, with notes of praline, espresso, malted milk biscuit and a balanced bitter finish.
---
Veltins Pilsener 4.8%
Pilsner - German

One of the finest examples of German Pilsner. Veltins Pilsener (4.8% ABV) is brewed using natural spring water from its own mountain. It has a delicate dry and clean palate, fine carbonated body, slight bitterness and a light citrus finish. Brewed in Sauerland, near Dortmund, to the German Purity Law
… Read More
1516. Voted 'World's Best Pilsner' in the 2007 World Beer Awards.
---
66|Table Beer Top Of The Table 2.5%
Table Beer
Brew By Numbers
In anticipation of some long nights screaming at the telly during the FIFA World Cup, we have put together the ultimate session beer! Named in honour of the first - but definitely not the last - time England won the World Cup our 66 Top of the Table Table beer comes in an easy drinking 2.5%.
---
Light Bulb 4.5%
Pale Ale - XPA (Extra Pale)
Verdant Brewing Co
As pale as a 100W light bulb but as juicy as an IPA. Session-able, quenching and totally addictive. Biscuity malt base with a hint of sweetness all drenched in fruity and dank hops. Extra Pale Ale, Vienna, Oats, Carapils, Caragold Magnum, Simcoe, Centennial BRY-97
---
Hefeweissbier 5.4%
Wheat Beer - Hefeweizen
Weihenstephaner
Our golden-yellow wheat beer, with its fine-pored white foam, smells of cloves and impresses consumers with its refreshing banana flavour. It is full bodied and with a smooth yeast taste. To be enjoyed at any time (always a pleasure / enjoyment), goes excellently with fish and seafood, with spicy cheese
… Read More
and especially with the traditional Bavarian veal sausage. Brewed according to our centuries-old brewing tradition on the Weihenstephan hill.
---
English Berry 4.0%
Cider - Other Fruit
Mortimers Orchard
A sparkling, clear, berry-coloured cider made from a blend of bittersweet, sharp and sweet apples, matured in Westons traditional oak vats before being blended with berry fruits.
---
High Diver 4.8%
Cider - Dry
Kentish Pip
High Diver plunges you into a world of fine bubbles and bobbing apples. A luxurious blend with Cox and Bramley apples, medium dry, marrying fresh acidity with a bright aromatic fruit character. It's a perfect partner to oysters and seafood or simply to enjoy on it's own. Take a dive and see what you find.
---
Mystic Peach 3.7%
Fruit Beer
Brouwerij Haacht Brasserie
Appearance: Pale yellow with a white, creamy head. The remaining beer yeasts give the beer a slight cloudiness. Flavour: It tastes like freshly picked, sun-ripened peaches are flowing through the wheat beer. It has a subtle sweetness that does not leave a cloying feeling in the back of your mouth.
---
100|Baltic Porter - Coffee & Brandy 9.0%
Porter - Baltic
Brew By Numbers
A dark and smooth Baltic Porter, fermented with our house lager yeast, rested on brandy oak chips, then blended with natural origin coffee from our friends @ Hasbean coffee.
---
Dreams of Brew York 2022 6.5%
Sour - Fruited
Brew York
A festive twist on one of our most popular sour beers, Dreams of Brew York combines juicy apples with tart redcurrants and cranberry with a subtle cinnamon warmth for our seasonal pastry sour. Be sure to check out this year's other seasonal brews; Fairytale of Brew York, Nightmare of Brew York, and BA Nightmare of Brew York.
---
Hasselhogg Pale Weissbier 5.0%
Wheat Beer - Witbier / Blanche
Only With Love
(David) Hasselhogg is our pale Weissbier - our big fruit bang and spices tribute to The Big Hoff himself. It's a traditional German Heffe, loaded to the max with banana, citrus and cloves. Hasselhogg is a pale and creamy wheat beer that packs a full 5% punch in a fizzy keg format. HE'S SO HOT RIGHT NOW!
---
Close
Bottles and Cans
Updated Nov 18 2022, 2:17 PM
Prism 4.5%
Pale Ale - New England / Hazy
Atom
A hazy, smooth and thick New England style beer.
---
Rhubarbra Streisand 5.5%
Pale Ale - Milkshake
Brew York
Rhubarb & Custard Milkshake IPA
---
GF. Laser Juice 4.2%
IPA - Session
Bristol Beer Factory
Sabro & Cryo Pop Session NEIPA
---
GF. Fantasma 6.5%
Gluten-Free
Magic Rock Brewing
Gluten-free IPA
---
Birthday Beer No.7 DDH Dobber 6.8%
IPA - American
Marble Beers Ltd
Collab with Salt & Thornbridge. A reinvention of the classic Dobber IPA
---
IPA Citra/El Dorado/Azacca 7.0%
IPA - American
Partizan Brewing
A hazy golden IPA with sweet oranges dominating. Aroma and flavour of malt & grapefruit leading to a bitter finish.
---
Pale Ale Mosiac/Ekuanot 4.5%
Pale Ale - American
Partizan Brewing
---
Expert In Bird Law 7.4%
IPA - New England / Hazy
Shiny Brewery
Collab with Squawk. Heavily hopped hazy IPA, with massive amounts of Mosaic backed with Talus and Loral
---
Staring At Machines 5.2%
Pale Ale - American
Shiny Brewery
DDH Pale, hopped with lashings of Citra, Nelson Sauvin & Idaho 7.
---
Roll With It 5.0%
Pale Ale - English
The Wild Beer Co
Collab with Bin Day Brewing. A crisp, refreshing apple pale.
---
AM:PM 4.5%
Gluten-Free
Thornbridge Brewery
Session IPA
---
Chaipur 5.9%
IPA - Other
Thornbridge Brewery
Chai IPA
---
Green Mountain 4.3%
IPA - Session
Thornbridge Brewery
Hazy Vermont Session IPA.
---
Jaipur 5.9%
IPA - American
Thornbridge Brewery
The Classic IPA
---
Quiet Storm - Nelson Sauvin 5.5%
Pale Ale - New Zealand
Thornbridge Brewery
Single Hopped Pale Ale with Nelson Sauvin
---
People, Money, Space, Time 3.8%
Pale Ale - New England / Hazy
Verdant Brewing Co
Session IPA
---
Close
Timmermans Pêche Lambicus 4.0%
Lambic - Fruit
Brewery John Martin & Brewery Timmermans
Peach Lambic
---
Close
Weihenstephaner Festbier 5.8%
Festbier
Bayerische Staatsbrauerei Weihenstephan
Traditional Oktoberfest Lager
---
Premium Pilsener 4.8%
Pilsner - German
Fürstlich Fürstenbergische Brauerei
Die lange Tradition dieses herben Bieres geht auf unseren Braumeister Josef Munz zurück, der bereits Ende des 19. Jahrhunderts eines der ersten Biere Pilsener Brauart in Deutschland braute. Dieses Pilsener erhob Kaiser Wilhelm II bei einem seiner zahlreichen Besuche im Donaueschinger Schloss zum "Tafelgetränk Seiner Majestät." Noch heute brauen wir
… Read More
dieses Fürstenberg-Bier angelehnt an die Originalrezeptur von einst. Dabei kommt eine speziell von der Fürstenberg Brauerei entwickelte Hefe zum Einsatz. Bestes Braumalz aus der Region, die besondere Mischung aus Hallertauer und Tettnanger Aromahopfen und die lange Reifezeit verleihen dem Fürstenberg Premium Pilsener sein charakterstarkes Aroma und die herbe Note.
---
Menabrea Bionda 4.8%
Lager - Pale
G. Menabrea & Figli
Italian Lager
---
GF. Lukas 4.2%
Lager - Helles
Thornbridge Brewery
Light gold in colour. Lukas is a crisp, Bavarian style Helles.
---
Salice 5.2%
Pilsner - Italian
Thornbridge Brewery
Collab with Pomona Island. Italian Style Pils.
---
Close
Chimay Dorée (Gold) 4.8%
Belgian Enkel / Patersbier
Bières de Chimay
Belgian Trappist Blonde
---
Orval 6.2%
Pale Ale - Belgian
Brasserie d'Orval
Unique pale Trappist beer
---
Tongerlo Blond 6.0%
Belgian Blonde
Brouwerij Haacht Brasserie
Blond beer with a fruity and hoppy aroma and a balanced flavour with a slightly bitter aftertaste.
---
Tongerlo Bruin 6.5%
Belgian Dubbel
Brouwerij Haacht Brasserie
Red brown beer with a smooth gentle aroma, a full flavour and a slightly roasted aftertaste.
---
Tongerlo Tripel 9.0%
Belgian Tripel
Brouwerij Haacht Brasserie
Belgian Tripel
---
Westmalle Trappist Extra 4.8%
Belgian Enkel / Patersbier
Brouwerij der Trappisten van Westmalle
Belgian Trappist Blonde
---
Close
Weihenstephaner Hefeweissbier Dunkel 5.3%
Wheat Beer - Dunkelweizen
Bayerische Staatsbrauerei Weihenstephan
Dark wheat beer.
---
Weihenstephaner Kristallweissbier 5.4%
Wheat Beer - Kristallweizen
Bayerische Staatsbrauerei Weihenstephan
In our golden-yellow crystal-clear wheat beer.
---
Close
Centroid 4.5%
Sour - Fruited
Atom
Vanilla and Lime Session Sour
---
Verdita 4.0%
Sour - Fruited
Kirkstall Brewery
Pineapple, Lime, Coriander, and Mint Sour
---
Allott 4.8%
Sour - Fruited
Thornbridge Brewery
Sour packed with classic garden fruits, strawberry and rhubarb.
---
Close
Cocoa Wonderland 6.8%
Porter - Other
Thornbridge Brewery
Chocolate Stout
---
Pardus Pecan Pie 8.0%
Stout - Imperial / Double Pastry
Thornbridge Brewery
Imperial Stout with Pecan Pie Flavours
---
Kick-Start 5.7%
Stout - Oatmeal
Vibrant Forest Brewery
Rich Coffee Stout
---
Close
Raspberry Mojito Cider 4.0%
Cider - Other Fruit
Lilley's Cider
---
Tropical 4.0%
Cider - Other Fruit
Lilley's Cider
---
Close
Pine Trail Pale Ale 0.5%
Non-Alcoholic Beer - Pale Ale
Big Drop Brewing Co
---
Veltins Pilsener 0,0% Alkoholfrei 0.0%
Non-Alcoholic Beer - Lager
Brauerei VELTINS
---
Lo Rider 0.0%
Non-Alcoholic Beer - Pale Ale
Brew York
---
Clear Head 0.5%
Non-Alcoholic Beer - IPA
Bristol Beer Factory
---
Special Effects Hoppy Lager 0.4%
Non-Alcoholic Beer - Lager
Brooklyn Brewery
---
Fürstenberg Pilsener 0,0% Alkoholfrei 0.0%
Non-Alcoholic Beer - Lager
Fürstlich Fürstenbergische Brauerei
---
Clausthaler Dry Hopped 0.5%
Non-Alcoholic Beer - Lager
Radeberger Gruppe
---
Close

Tap again to access this feed

Tap again to access this feed
Find Us
Sheffield Station,
Sheaf St,
Sheffield,
South Yorkshire
S1 2BP
0114 273 7558
info@sheffieldtap.com
Opening Times
| | |
| --- | --- |
| Monday | 11am-11pm |
| Tuesday |  11am-11pm |
| Wednesday |  11am-11pm |
| Thursday |  11am-11pm |
| Friday |  10am-12am |
| Saturday |  10am-12am |
| Sunday |  11am-11pm |
Under 18's are welcome until 20:00.  We are dog friendly.