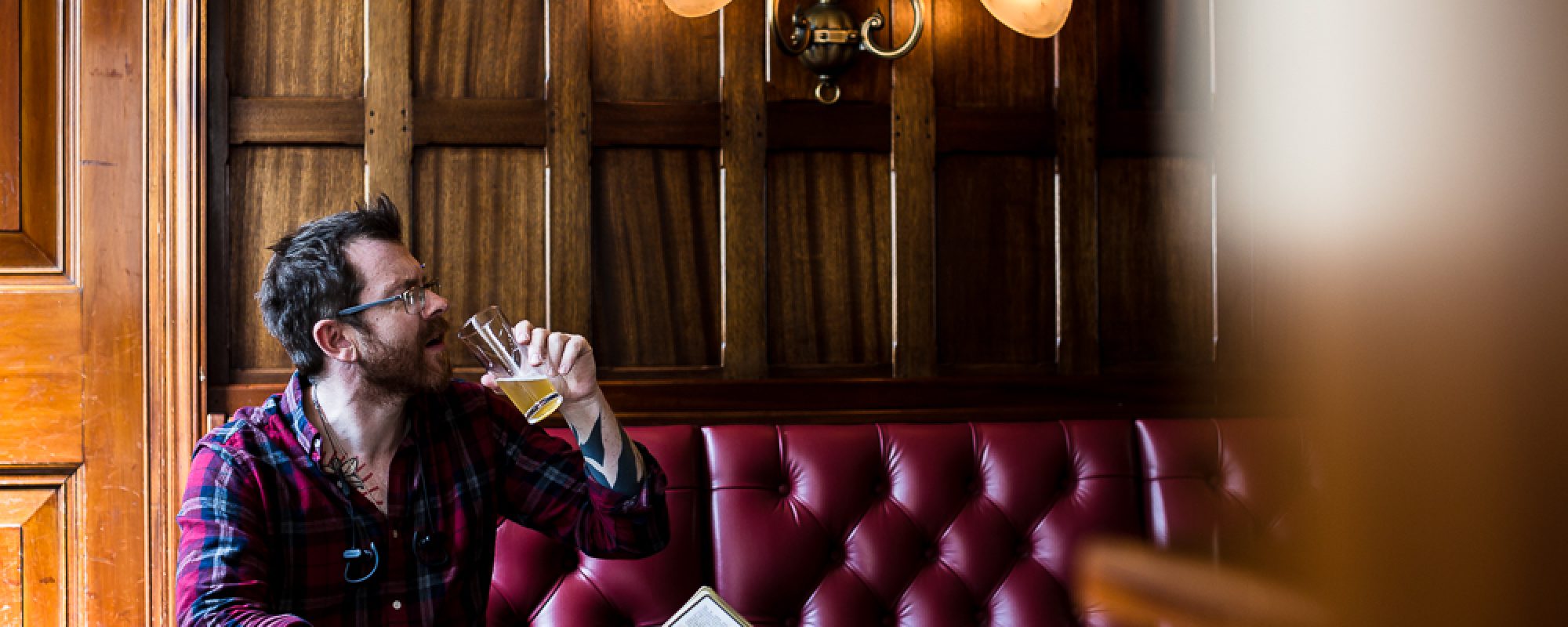 The Sheffield Tap brings you a wide range of craft beers, on-site microbrewery, and a premium wine and spirit selection.
Located within the Grecian architecture of Sheffield Midland Railway Station and lovingly restored to its former glory, we offer 11 traditional handpulls and 14 different keg beers, as well as a large selection of bottles and cans.  Our on-site microbrewery "Tapped Brew Co." brews weekly and the latest freshest beer can be found on our bar.  The highly experienced bar and cellar team are ready to serve you the best beer in the country, so look forward to your next visit.
Our Story
The Sheffield Tap is housed within the former Edwardian Refreshment Room & Dining Rooms of Sheffield Station. The condition you see today is testament to the hard work of Jamie Hawksworth, Jon Holdsworth & team who have spent two years 'cutting through the red tape' and bringing considerable investment to enable the rooms to be restored to their original condition.
The rooms became disused in the 1960's, with final blow being dealt by British Rail in the 1970's when the Refreshment Room was converted into a waiting room. The original mahogany bar top was removed and the damaged front bar pushed to the rear of the room beneath the back bar, and the ornate fireplace and features taken from the building. Over a matter of months the Grade 2 listed interior was vandalised and eventually locked-up in 1976. Since then, the interior had been left to decay with the original ornate plaster ceiling suffering partial collapse due to the leaking roof. In 2008 we were finally able to access the derelict rooms and begin our restoration.
With private investment and grant assistance from The Railway Heritage Trust, we have been able to correct the damage caused by years of abuse. Our foresight was to repair where possible and replicate as required. The ornate barrel plaster ceiling is a complete replica of the previous feature, taken from moulds of the original and handmade by a local contractor. The existing mahogany bar was salvaged from pieces of the original, being rebuilt and polished to the finest detail we could achieve. It is important to note that we are only the caretakers of this building as it is Grade 2 listed and publicly owned, yet we all feel tremendously proud of our personal investment and delighted that it is once again a "very" operational building!
Tapped Brew Co.
Situated in the original First Class Dining Room, adjacent to the main bar of the Sheffield Tap, sits our on-site microbrewery; Tapped Brew Co.  We brew regularly each week on a 4BBL kit and it truly is the best way to enjoy a pint from the bar while enjoying the sights, sounds and smells of a live brew day.  As with the main bar, the building dates back from 1904 and has been restored with great care with assistance from the Railway Heritage Trust.  Today, the Sheffield Tap is one of the finest brew pubs in the country and the dining room has regained its character, charm and life.
The Sheffield Tap always showcases the most recent freshest beer being produced from the brewery, but you can also find our beer at other venues in the group.
Private Events and Functions
The refurbished Edwardian Dining room is furnished with plush red leather seating, beautiful chandeliers, ornate fireplaces, copper topped tables, comfy armchairs and large brewery tables (able to seat larger groups), all in full view of our very own fully functional onsite micro brewery "Tapped Brew Co".
This room is available to hire for private functions, this beautiful room is ideal to cater for your special events, meetings and social gatherings. We are able to offer a wide range of options to ensure that all your requirements are met.
For more information, please consult our dedicated events page linked below:
On The Bar Draught Menu
Updated Jul 14 2020, 2:11 PM
Jaipur 5.9%
IPA - English
Thornbridge Brewery
A citrus dominated India Pale Ale, its immediate impression is soft and smooth yet builds to a crescendo of massive hoppiness accentuated by honey. An enduring, bitter finish.
---
Black Gold 4.0%
Dark Ale
Kent Brewery
Rich and dark coloured with many of the flavours and easy drinking qualities of a Golden Ale. A light and refreshing dark beer.
---
Hawkes Point Pale 5.0%
Pale Ale - English
Harbour Brewing Co
---
Yorkshire Legend 3.8%
English Bitter
Helmsley Brewing Co
A Yorkshire Bitter that is dark and brooding with toasted berry notes, brewed from a recipe containing 5 different Yorkshire Malts and two English hops.
---
Jericho 4.0%
Pale Ale - American
Tapped Brew Co
Our all American hopped West Coast Pale Ale. Featuring El Dorado, Cascade, Calypso and Amarillo from Washington State. Plenty of tropical fruit and citrus flavours derived from these great American hops with some soft stone fruit notes.
---
Hodgson IPA 5.0%
IPA - English
Tapped Brew Co
Our traditional style IPA is named after George Hodgson, who was one of the early brewers who exported beer to India and added extra hops as a preservative so the beer lasted the voyage.Brewed with Marris Otter and a blend of specialty malts for a balanced medium bodied sweetness that
… Read More
works in harmony with the two British hops, Jester and Olicana.
---
Pear & Raspberry 4.0%
Cider - Other Fruit
Lilley's Cider
A fruity delight with a sharp bite of raspberry. This is a perry blended with raspberry juice to make a refreshing drink whether rain or shine.
---
Close
Saucery 3.9%
IPA - Session / India Session Ale
Magic Rock Brewing
A supernatural session IPA made for drinking all day long. Lightly sweet and malty Golden Promise™ malt, a balanced bitterness and layers of tropical fruit filled Citra and Ekuanot hops in whirlpool and dry hop. Fermented with London Ale II yeast to add more fruity body, and enhance malt and hop profile…. Same again? * This beer is also gluten-free.
---
Bernard Lager 3.8%
Pilsner - Czech
Bernard Family Brewery
A golden Pilsner-style lager, characterized by its richness of colour and aromatic bouquet. Bernard Beer provides a full bodied flavor – smooth and refreshing with no aftertaste – a well balanced brew. The beer is brewed in compliance to the Bavarian Purity Law of 1516, using only Czech two-row barley
… Read More
malt, noble SAAZ hops,soft water from private wells and Bernard's signature yeast strain Ingredients: water, barley malt from the Bernard malt house, prepared Saaz hops, hop extract Average nutritional values in 100 ml: Energy content 155 kJ/37 kcal, fats 0 g, saturated fat 0 g, carbohydrates 3,7 g, sugars 0,5 g, protein 0,5 g, salt 0 g
---
Unfiltered Lager (Nefiltrovaná 12) 5.0%
Pilsner - Czech
Bernard Family Brewery
This is the best version of lager you can have. Very fresh, natural, unfiltered and unpasteurised. The kegs are filled straight from the lager tank so you an enjoy the exceptional full body character underlined with a yeasty aroma and taste.
---
Weihenstephaner Hefeweissbier 5.4%
Hefeweizen
Bayerische Staatsbrauerei Weihenstephan
Our golden-yellow wheat beer, with its fine-pored white foam, smells of cloves and impresses consumers with its refreshing banana flavour. It is full bodied and with a smooth yeast taste. To be enjoyed at any time (always a pleasure / enjoyment), goes excellently with fish and seafood, with spicy cheese
… Read More
and especially with the traditional Bavarian veal sausage. Brewed according to our centuries-old brewing tradition on the Weihenstephan hill.
---
Mö Raspberry Beer 4.0%
Fruit Beer
Möbru
The Raspberry juice compliments the zestiness of the Wheat Beer – balanced by the special spice mix and restrained sweetness. Pilsner Barley Malt, Malted Wheat and a blend of Saaz and Styrian Goldings provides a fresh, fruity, mouth-watering drinking experience you will not forget.
---
Mortimers Orchard English Berry 4.0%
Cider - Other Fruit
Westons Cider
A sparkling, clear, berry-coloured cider made from a blend of bittersweet, sharp and sweet apples, matured in Westons traditional oak vats before being blended with berry fruits.
---
Heck Maker 4.0%
Pale Ale - International
SALT
A naturally hazy, double dry hopped pale with citrus fruit aromas and a soft, pithy finish.
---
Stout 4.5%
Stout - Irish Dry
Titanic Brewery
A true old fashioned stout. A dark combination of malt and roast with some hops. Strongly flavoured and well balanced.
---
Kalamansification 5.0%
Sour - Fruited
The Wild Beer Co
Kalamansification is a tropical sour inspired by zingy tropical and citrus cocktails. Its bright colour comes from hibiscus flowers and has a big tropical fruit juice flavour and aroma. We used kalamansi and lime in addition to the passion fruit, orange and guava in the beer.
---
Electric Rain 4.6%
Sour - Fruited
Bad Seed Brewery
Lemon and Lime Kettle Sour. Super refreshing with a classic sharp citrus fruit combo thats a lot of fun. Should come with a pucker warning as it is SOUR it will chew your face off but so tasty youll keep coming back for more.
---
Cyder 4.5%
Cider - Dry
Aspall
Aspall Cyder is made in the Aspall house style by blending culinary and bittersweet apple varieties such as cox and russet to deliver the refreshing, crisp taste of just-bitten apples. A new mid-strength cider for all occasions. Delivering the refreshing, crisp taste of just-bitten apples with a light to medium body.
---
Veltins Pilsener 4.8%
Pilsner - German
Brauerei VELTINS
---
Bernard Pilsner 4.5%
Pilsner - Czech
Bernard Family Brewery
Bernard Premium Bohemian Lager is a light, golden-yellow bohemian-pilsner-style for all seasons. This unpasteurized light lager is a beer with a balanced bitter taste in harmony with its tasty fullness, hop aroma and rich foam. The scent is large and balanced with clear maltiness and nice hop room. The
… Read More
taste is medium-bodied, fresh and aromatic with a long aftertaste and mild hop.
---
Dark Lager (Černý ležák) 5.0%
Lager - Dark
Bernard Family Brewery
This unpasteurised dark lager is all about speciality malts. The combination of caramel, Bavarian,Pilsner, and colour malts results in its roasted character,which is an amazing alternative to the
… Read More
sharp grassiness of good Bohemian pilsners. After the first sip,you will be pleased by coffee, caramel and nutty flavors balanced with the bitterness of noble Saaz hops. The unique experience of this traditional lager is under scored by the EU protected geographical indication"Czech Beer"and several Czech and international degustation awards. Dip your nose into its brown head and enjoy the taste of this deep dark lager.
---
Close
Bottles and Cans
Updated Jul 9 2020, 5:07 PM

Tap again to access this feed

Tap again to access this feed
Find Us
Sheffield Station,
Sheaf St,
Sheffield,
South Yorkshire
S1 2BP
0114 273 7558
info@sheffieldtap.com
Opening Times
| | |
| --- | --- |
| Monday | 11am-11pm |
| Tuesday |  11am-11pm |
| Wednesday |  11am-11pm |
| Thursday |  11am-11pm |
| Friday |  10am-12am |
| Saturday |  10am-12am |
| Sunday |  11am-11pm |
Under 18's are welcome until 20:00.  We are dog friendly.