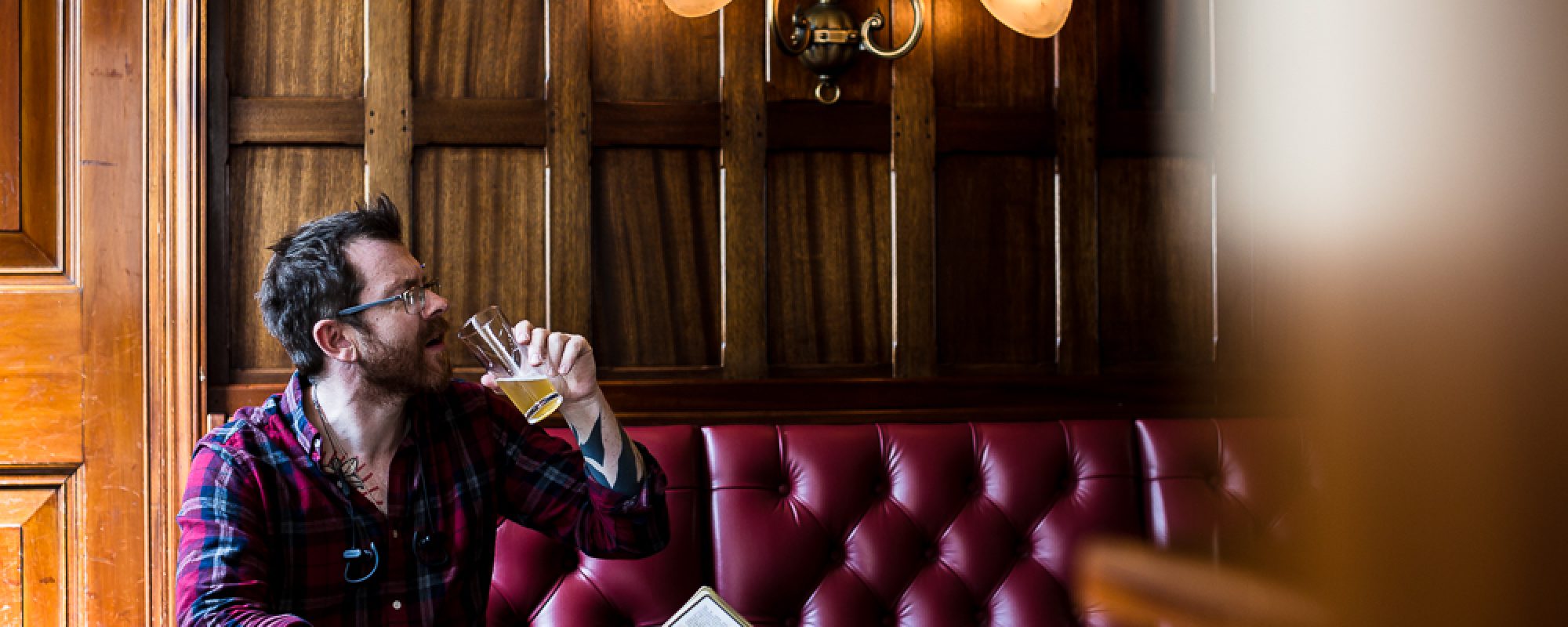 The Sheffield Tap brings you a wide range of craft beers, on-site microbrewery, and a premium wine and spirit selection.
Located within the Grecian architecture of Sheffield Midland Railway Station and lovingly restored to its former glory, we offer 11 traditional handpulls and 14 different keg beers, as well as a large selection of bottles and cans.  Our on-site microbrewery "Tapped Brew Co." brews weekly and the latest freshest beer can be found on our bar.  The highly experienced bar and cellar team are ready to serve you the best beer in the country, so look forward to your next visit.
Our Story
The Sheffield Tap is housed within the former Edwardian Refreshment Room & Dining Rooms of Sheffield Station. The condition you see today is testament to the hard work of Jamie Hawksworth, Jon Holdsworth & team who have spent two years 'cutting through the red tape' and bringing considerable investment to enable the rooms to be restored to their original condition.
The rooms became disused in the 1960's, with final blow being dealt by British Rail in the 1970's when the Refreshment Room was converted into a waiting room. The original mahogany bar top was removed and the damaged front bar pushed to the rear of the room beneath the back bar, and the ornate fireplace and features taken from the building. Over a matter of months the Grade 2 listed interior was vandalised and eventually locked-up in 1976. Since then, the interior had been left to decay with the original ornate plaster ceiling suffering partial collapse due to the leaking roof. In 2008 we were finally able to access the derelict rooms and begin our restoration.
With private investment and grant assistance from The Railway Heritage Trust, we have been able to correct the damage caused by years of abuse. Our foresight was to repair where possible and replicate as required. The ornate barrel plaster ceiling is a complete replica of the previous feature, taken from moulds of the original and handmade by a local contractor. The existing mahogany bar was salvaged from pieces of the original, being rebuilt and polished to the finest detail we could achieve. It is important to note that we are only the caretakers of this building as it is Grade 2 listed and publicly owned, yet we all feel tremendously proud of our personal investment and delighted that it is once again a "very" operational building!
Tapped Brew Co.
Situated in the original First Class Dining Room, adjacent to the main bar of the Sheffield Tap, sits our on-site microbrewery; Tapped Brew Co.  We brew regularly each week on a 4BBL kit and it truly is the best way to enjoy a pint from the bar while enjoying the sights, sounds and smells of a live brew day.  As with the main bar, the building dates back from 1904 and has been restored with great care with assistance from the Railway Heritage Trust.  Today, the Sheffield Tap is one of the finest brew pubs in the country and the dining room has regained its character, charm and life.
The Sheffield Tap always showcases the most recent freshest beer being produced from the brewery, but you can also find our beer at other venues in the group.
Draught Beer & Cider
Updated Mar 20 2023, 9:55 PM
Jericho 4.0%
Pale Ale - American
Tapped Brew Co
Our US hopped American Pale Ale has a well rounded malt backbone for a good body and amber colour, similar to the classic American Pales such as Sierra Nevada. The malty sweetness working in harmony alongside the trio of hops, Cascade, El Dorado and Calypso.
---
Toha 3.6%
Pale Ale - New Zealand
Tapped Brew Co
An all New Zealand hopped session pale. Toha means Forge in Maori, the beer was forged in Sheffield and showcases some fantastic hops from New Zealand - Taiheke and Nelson Sauvin.
---
Independence 4.6%
Pale Ale - American
Bristol Beer Factory
US Style pale ale. Very distinctive pale ale that we have hopped continuously throughout the boil.
---
YPA 4.1%
Golden Ale
Rooster's Brewing Co
Pale golden colour. Raspberry aroma. Long aromatic finish. Medium bitterness. Golden Promise malt, soft Yorkshire water and Styrian Golding hops.
---
Jaipur 5.9%
IPA - American
Thornbridge Brewery
A citrus dominated India Pale Ale, its immediate impression is soft and smooth yet builds to a crescendo of massive hoppiness accentuated by honey. An enduring, bitter finish. With over 100 worldwide awards, this American style IPA has a complexity of flavours created by a six-dimensional hop experience. Jaipur's hoppiness builds
… Read More
in the mouth and bursts with powerful citrus fruit flavours, culminating in a remarkably smooth finish and making it a deliciously drinkable IPA. Hops - Chinook, Centennial, Ahtanum, Simcoe, Columbus & Cascade Malt - Maris Otter
---
Wouldn't It Be Nice 5.5%
Stout - English
Twisted Wheel Brew Co.
This brew exhibits lots of dry-roasted character thanks to the use of roasted barley. The emphasis on coffee-like roasted barley and a moderate degree of roasted malt aromas define much of the character. Medium hop bitterness, for a smooth, velvety dark stout.
---
CHRRY BAKEWELL FRUITY PALE ALE 4.5%
Fruit Beer
PLAY BREW CO̠
This take on the traditional British cheeky Cherry Bakewell is cute cute cute!
---
Rocky 4.1%
Pale Ale - American
Shiny Brewery
A solid and Highly drinkable ale brewed with Cascade, and Mosaic for their fruity and citrus qualities, with a bit of Zeus for added edge!!
---
Citra Star 4.1%
IPA - Session
Anarchy Brew Co.
Citra Star is loaded with grapefruit, lemon and lime. Light-bodied enough to keep you coming back for more. Vegan-friendly in can + keg
---
Topside 3.8%
Bitter - Session / Ordinary
Round Corner Brewing
Pouring a Lucious golden hue, Citrus hop aromas and subtle fruity notes from our house 'dual strain cask-ale yeast' overlay bready, caramel malts. a soft and elegant session beer, with a long and lingering bitterness and rewarding dry finish.
---
Black Forest 4.0%
Cider - Other Fruit
Snails Bank Cider Co
Medium cider blended with sour black cherry, sweet vanilla and subtle hints of chocolate.
---
Close
Mittel Pils 4.4%
Pilsner - Other
Elvington Brewery
Brewed in our Elvington brew house, this pale pilsner is duel hopped with Hallertau Mittelfrüh and a later addition of a secret German hop, A delicate aroma hop used mainly over the years in Lager type beers. This pale lager has a wonderful balance, with gentle hints of sweetness and lemon,
… Read More
all topped off with a naturally carbonated fresh taste. Embodied by our enthusiasm to make an authentic German style beer, we use only the finest German Malt and Hops, whilst adding our own unique yeast strain.
---
Light Bulb 4.5%
Pale Ale - XPA (Extra Pale)
Verdant Brewing Co
As pale as a 100W light bulb but as juicy as an IPA. Session-able, quenching and totally addictive. Biscuity malt base with a hint of sweetness all drenched in fruity and dank hops. Extra Pale Ale, Vienna, Oats, Carapils, Caragold Magnum, Simcoe, Centennial BRY-97
---
Weihenstephaner Hefeweissbier 5.4%
Wheat Beer - Hefeweizen
Bayerische Staatsbrauerei Weihenstephan
Our golden-yellow wheat beer, with its fine-pored white foam, smells of cloves and impresses consumers with its refreshing banana flavour. It is full bodied and with a smooth yeast taste. To be enjoyed at any time (always a pleasure / enjoyment), goes excellently with fish and seafood, with spicy cheese
… Read More
and especially with the traditional Bavarian veal sausage. Brewed according to our centuries-old brewing tradition on the Weihenstephan hill.
---
Mortimers Orchard English Berry 4.0%
Cider - Other Fruit
Westons Cider
A sparkling, clear, berry-coloured cider made from a blend of bittersweet, sharp and sweet apples, matured in Westons traditional oak vats before being blended with berry fruits.
---
Cyder 4.5%
Cider - Dry
Aspall Cyder
Aspall Cyder is made in the Aspall house style by blending culinary and bittersweet apple varieties such as cox and russet to deliver the refreshing, crisp taste of just-bitten apples. A new mid-strength cider for all occasions. Delivering the refreshing, crisp taste of just-bitten apples with a light to medium body.
---
Mystic Kriek 3.5%
Fruit Beer
Brouwerij Haacht Brasserie
Seize the day with a special fruit beer - Mystic Cherry. It smells fresh and tasty and has the full flavour of summer cherries combined with wheat beer. Mystic lets you enjoy the taste of cherries all year round. Contains 25% cherry juice. Does not contain preservatives. Appearance Clear red in colour with
… Read More
a pink head. Flavour Powerful cherry taste. A tart fruit flavour at the onset gently flowing into a subtle and sweet aftertaste that does not cloy.
---
Rosebud 5.9%
IPA - New England / Hazy
Polly's Brew Co.
Our flagship core beer - the style we're most well known for, and what we do best. Rosebud is an IPA in the New England style - the most popular variant of the style int he world. We've hopped this beer with Citra, Galaxy, Mosaic and Simcoe to create a
… Read More
certified tropical punchbowl of flavour. Strong enough to retain all that incredible mouthfeel, but seasonable enough to smash pints of.
---
Freedom Helles (Organic) 4.8%
Lager - Helles
Freedom Brewery
Helles, the Freedom way. Not happy with simply replicating a Munich style Helles, we use an organic malt which showcases the organic Hallertau Tradition hops to deliver a full bodied beer packed full with delicate flavours. And if that wasn't enough it's certified organic and Vegan too. INGREDIENTS Spring water Lager malt Hallertau Tradition hops Lager yeast
---
Farmhouse Lager 4.8%
Lager - Pale
Burning Sky Brewery
A virtual and spiritual collaboration with Black Isle Brewery. A spelt-heavy rustic farmhouse lager using traditional methods and ingredients.
---
Wipeout 4.2%
IPA - Session
Shiny Brewery
The perfect session IPA for everyone. Citra, Mosaic and Simcoe hops set waves of juicy, tropical flavours across your tastebuds. Gluten free, vegan & unfined!
---
Whisky Barrel Aged Hear the Sirens 10.0%
Stout - Imperial / Double
Neptune Brewery
Aged separately in two whisky barrels, Glenturret peated malt and Highland Islay, and blended after five months this special edition of our Imperial Stout delivers complex flavours of decadent caramel and dark chocolate sitting alongside subtle smoky notes. Dark stone fruit sweetness ends with a pleasing light warmth. An opulent beer to luxuriate in.
---
Lumberjack 4.0%
Porter - Other
Siren Craft Brew
Our latest nitro porter is all about flavour and body. Here we have minimal roast character, focussing on the rich chocolatey malts without losing any toasty depth or nuttiness. For some extra indulgence, we've spun the beer on bourbon barrel oak which has been infused with maple syrup! If you think that sounds good, you're right.
---
Kiss Ya Homies Goodnight 6.9%
Sour - Smoothie / Pastry
Shiny Brewery
Three fruity friends come together in this three-way sour. Raspberry, Strawberry, Cherry & Lactose. A whopping 325g/l of fruit. Tell your friends you love them. Pucker up! UNFINED * CONTAINS LACTOSE
---
Close
Bottles and Cans
Updated Mar 21 2023, 3:05 PM

Tap again to access this feed

Tap again to access this feed
Find Us
Sheffield Station,
Sheaf St,
Sheffield,
South Yorkshire
S1 2BP
0114 273 7558
info@sheffieldtap.com
Opening Times
| | |
| --- | --- |
| Monday | 11am-11pm |
| Tuesday |  11am-11pm |
| Wednesday |  11am-11pm |
| Thursday |  11am-11pm |
| Friday |  10am-12am |
| Saturday |  10am-12am |
| Sunday |  11am-11pm |
Under 18's are welcome until 20:00.  We are dog friendly.