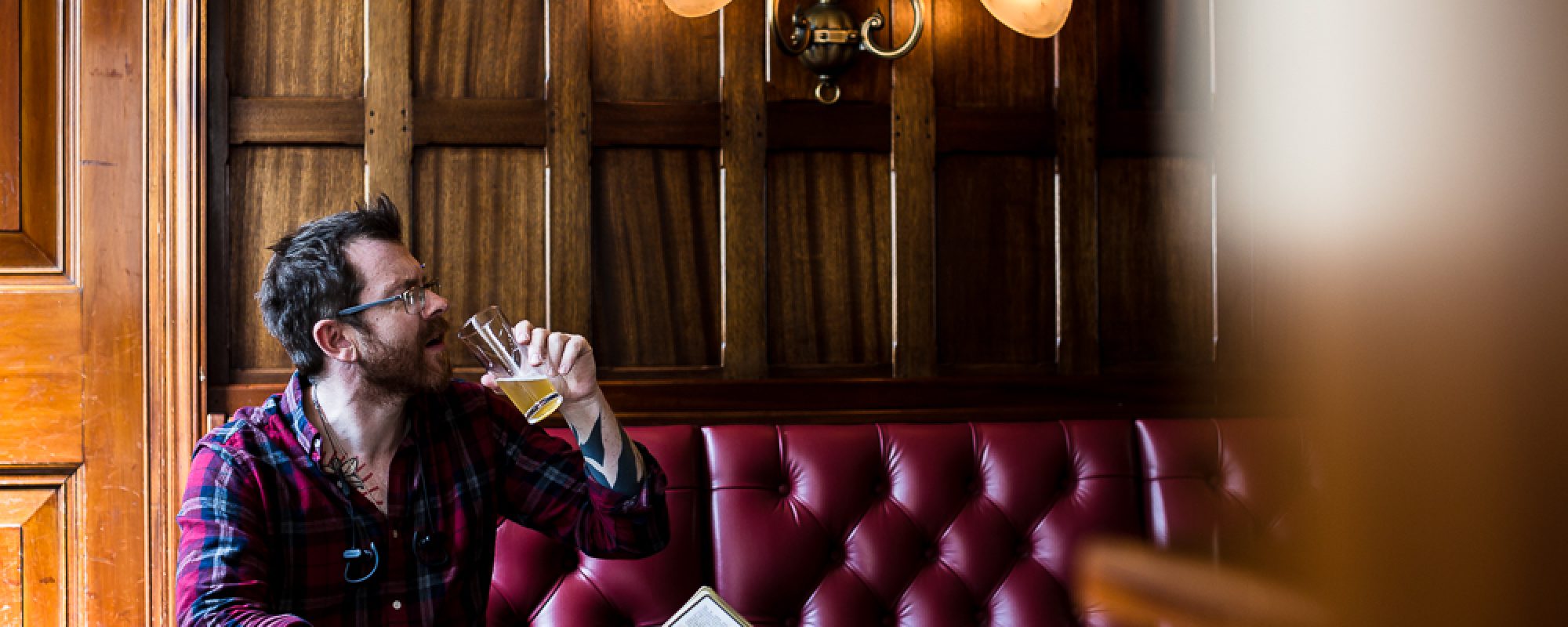 The Sheffield Tap brings you a wide range of craft beers, on-site microbrewery, and a premium wine and spirit selection.
Located within the Grecian architecture of Sheffield Midland Railway Station and lovingly restored to its former glory, we offer 11 traditional handpulls and 14 different keg beers, as well as a large selection of bottles and cans.  Our on-site microbrewery "Tapped Brew Co." brews weekly and the latest freshest beer can be found on our bar.  The highly experienced bar and cellar team are ready to serve you the best beer in the country, so look forward to your next visit.
Our Story
The Sheffield Tap is housed within the former Edwardian Refreshment Room & Dining Rooms of Sheffield Station. The condition you see today is testament to the hard work of Jamie Hawksworth, Jon Holdsworth & team who have spent two years 'cutting through the red tape' and bringing considerable investment to enable the rooms to be restored to their original condition.
The rooms became disused in the 1960's, with final blow being dealt by British Rail in the 1970's when the Refreshment Room was converted into a waiting room. The original mahogany bar top was removed and the damaged front bar pushed to the rear of the room beneath the back bar, and the ornate fireplace and features taken from the building. Over a matter of months the Grade 2 listed interior was vandalised and eventually locked-up in 1976. Since then, the interior had been left to decay with the original ornate plaster ceiling suffering partial collapse due to the leaking roof. In 2008 we were finally able to access the derelict rooms and begin our restoration.
With private investment and grant assistance from The Railway Heritage Trust, we have been able to correct the damage caused by years of abuse. Our foresight was to repair where possible and replicate as required. The ornate barrel plaster ceiling is a complete replica of the previous feature, taken from moulds of the original and handmade by a local contractor. The existing mahogany bar was salvaged from pieces of the original, being rebuilt and polished to the finest detail we could achieve. It is important to note that we are only the caretakers of this building as it is Grade 2 listed and publicly owned, yet we all feel tremendously proud of our personal investment and delighted that it is once again a "very" operational building!
Tapped Brew Co.
Situated in the original First Class Dining Room, adjacent to the main bar of the Sheffield Tap, sits our on-site microbrewery; Tapped Brew Co.  We brew regularly each week on a 4BBL kit and it truly is the best way to enjoy a pint from the bar while enjoying the sights, sounds and smells of a live brew day.  As with the main bar, the building dates back from 1904 and has been restored with great care with assistance from the Railway Heritage Trust.  Today, the Sheffield Tap is one of the finest brew pubs in the country and the dining room has regained its character, charm and life.
The Sheffield Tap always showcases the most recent freshest beer being produced from the brewery, but you can also find our beer at other venues in the group.
Draught Beer & Cider
Updated Jan 31 2023, 3:22 PM
Cortado 4.9%
Pale Ale - Other
Thornbridge Brewery
4.9% Flat White Pale Ale Cortado was created as a juxtaposition; a light and refreshing pale ale with an unexpected addition of Arabica coffee to really get the taste buds working overtime. Traditionally, coffee would be reserved for darker beers, but we love the way it intertwines with hints of caramel, citrus and vanilla throughout.
---
Green Star 3.0%
Pale Ale - English
Hambleton Brewery
An easy drinking light pale ale. Low in alcohol and bitterness but with a balanced malty sweetness and fruity hop aroma.
---
Jaipur 5.9%
IPA - American
Thornbridge Brewery
A citrus dominated India Pale Ale, its immediate impression is soft and smooth yet builds to a crescendo of massive hoppiness accentuated by honey. An enduring, bitter finish. With over 100 worldwide awards, this American style IPA has a complexity of flavours created by a six-dimensional hop experience. Jaipur's hoppiness builds
… Read More
in the mouth and bursts with powerful citrus fruit flavours, culminating in a remarkably smooth finish and making it a deliciously drinkable IPA. Hops - Chinook, Centennial, Ahtanum, Simcoe, Columbus & Cascade Malt - Maris Otter
---
Lowline 3.8%
Stout - Milk / Sweet
Thornbridge Brewery
A sumptuous mini milk stout. We use a carefully curated selection of dark malts for a rounded roastiness with alluring hints of chocolate and coffee. The mouthfeel is opulent and silky smooth with a light caramel sweetness in the finish. Brewed in collaboration with Turning Point Brew Co
---
Manchester Bitter 4.2%
Bitter - Session / Ordinary
Marble Beers Ltd
Our most traditional core beer is inspired by a Manchester stalwart; a fondly-remembered original. Speciality malt gives the deep golden colour and robust base, balanced by crisp bitterness and a floral, lemony aroma.
---
Rust Buster 4.3%
Brown Ale - Other
Anarchy Brew Co.
---
Lord Marples 4.0%
Bitter - Session / Ordinary
Thornbridge Brewery
Lord Marples is surprisingly smooth with light toffee and caramel characters, a mixture of floral and spicy hop notes and a pleasing bitter finish.
---
El Dorado Ultra-Pale 3.9%
Pale Ale - English
Brewsmith Beer Ltd
---
Toha 3.6%
Pale Ale - New Zealand
Tapped Brew Co
An all New Zealand hopped session pale. Toha means Forge in Maori, the beer was forged in Sheffield and showcases some fantastic hops from New Zealand - Taiheke and Nelson Sauvin.
---
Sheaf Street Pale 4.5%
Pale Ale - English
Tapped Brew Co
Our session IPA named after our home, Sheaf Street. Brewed with Cascade, Jester and Azacca hops.
---
Abrahalls AD Dry Still Cider 6.0%
Cider - Dry
Celtic Marches
Skilfully crafted cider is a well rounded, easy to drink, still dry cider. Made on our Herefordshire farm from 100% cider apples. An intense heady aroma of crushed apples on the nose, natural golden colour, dry but smooth on the palate leaving a clean aftertaste. Made from a blend of bitter sweet and sharp cider apples.
---
Close
Veltins Pilsener 4.8%
Pilsner - German

One of the finest examples of German Pilsner. Veltins Pilsener (4.8% ABV) is brewed using natural spring water from its own mountain. It has a delicate dry and clean palate, fine carbonated body, slight bitterness and a light citrus finish. Brewed in Sauerland, near Dortmund, to the German Purity Law
… Read More
1516. Voted 'World's Best Pilsner' in the 2007 World Beer Awards.
---
Cyder 4.5%
Cider - Dry
Aspall Cyder
Aspall Cyder is made in the Aspall house style by blending culinary and bittersweet apple varieties such as cox and russet to deliver the refreshing, crisp taste of just-bitten apples. A new mid-strength cider for all occasions. Delivering the refreshing, crisp taste of just-bitten apples with a light to medium body.
---
Light Bulb 4.5%
Pale Ale - XPA (Extra Pale)
Verdant Brewing Co
As pale as a 100W light bulb but as juicy as an IPA. Session-able, quenching and totally addictive. Biscuity malt base with a hint of sweetness all drenched in fruity and dank hops. Extra Pale Ale, Vienna, Oats, Carapils, Caragold Magnum, Simcoe, Centennial BRY-97
---
Weihenstephaner Hefeweissbier 5.4%
Wheat Beer - Hefeweizen
Bayerische Staatsbrauerei Weihenstephan
Our golden-yellow wheat beer, with its fine-pored white foam, smells of cloves and impresses consumers with its refreshing banana flavour. It is full bodied and with a smooth yeast taste. To be enjoyed at any time (always a pleasure / enjoyment), goes excellently with fish and seafood, with spicy cheese
… Read More
and especially with the traditional Bavarian veal sausage. Brewed according to our centuries-old brewing tradition on the Weihenstephan hill.
---
English Berry 4.0%
Cider - Other Fruit
Mortimers Orchard
A sparkling, clear, berry-coloured cider made from a blend of bittersweet, sharp and sweet apples, matured in Westons traditional oak vats before being blended with berry fruits.
---
Mystic Kriek - cerise - cherry 3.5%
Fruit Beer
Brouwerij Haacht Brasserie
Seize the day with a special fruit beer - Mystic Cherry. It smells fresh and tasty and has the full flavour of summer cherries combined with wheat beer. Mystic lets you enjoy the taste of cherries all year round. Contains 25% cherry juice. Does not contain preservatives. Appearance Clear red in colour with
… Read More
a pink head. Flavour Powerful cherry taste. A tart fruit flavour at the onset gently flowing into a subtle and sweet aftertaste that does not cloy.
---
One Trick Pony 4.1%
Sour - Other
Rooster's Brewing Co
A sour beer originally brewed in collaboration with Hawkshead Brewery and Taylors of Harrogate. Bramling Cross hops offer a low-level of bitterness to this tart beer that carries a pink hue and floral and citrus notes from Taylors' Rose Lemonade herbal tea infusion.
---
Summacrush 4.0%
IPA - Session
New Bristol Brewery
A delicous, juicy, hazy session IPA using only Galaxy hops. Notes of citrus, passionfruit, peach and pineapple aromatics. Very more'ish - you'll be wanting to crush it all Summer!
---
Have A Lovely Day 3.8%
IPA - English
Newtown Park Brewing Co.
---
Wonderland 4.1%
IPA - New England / Hazy
New Bristol Brewery
We've retained lots of flavour and a silky smooth texture in this Vermont Style IPA and made sure its one you ca enjoy time and time again by keeping the ABV nice and low. A mild bitterness and big juicy blast - refresh with Wonderland! Contains Lactose.
---
Mackinaw 5.4%
Brown Ale - American
Round Corner Brewing
Anmerican Brown Ale. A harmony of 7 different ale malts with American cascade, amarillo and crystal hops creates this rich and seductive beer. Luscious malt characters of chocolate, nutty caramel and dates are enhanced by citrus and marmalade characters of the USA hops.
---
Cocoa Wonderland 6.8%
Porter - Other
Thornbridge Brewery
A full bodied, robust porter with natural mocha malt flavours from the complex malt grist, complementing the decadent additions of real chocolate to the maturation process.
---
Blonde Star 4.1%
Blonde Ale
Anarchy Brew Co.
Crisp and fresh, Blonde Star is light in body but certainly not in flavour. Brimful of lemon, grapefruit, and passion fruit. Refreshing and bready, with a bright finish. Vegan-friendly in can + keg
---
Freedom Pils 4.4%
Pilsner - Other
Freedom Brewery
Looking for real beer? Then look no further. Our Pils offers a modern twist on classic pilsner styles combining European and American hops to deliver a golden colour, distinctive citrus aroma and subtle bitterness. INGREDIENTS Spring water Lager malt, cara malt Saaz, Centennial & Liberty hops Lager yeast
---
Close
Bottles and Cans
Updated Jan 31 2023, 3:25 PM

Tap again to access this feed

Tap again to access this feed
Find Us
Sheffield Station,
Sheaf St,
Sheffield,
South Yorkshire
S1 2BP
0114 273 7558
info@sheffieldtap.com
Opening Times
| | |
| --- | --- |
| Monday | 11am-11pm |
| Tuesday |  11am-11pm |
| Wednesday |  11am-11pm |
| Thursday |  11am-11pm |
| Friday |  10am-12am |
| Saturday |  10am-12am |
| Sunday |  11am-11pm |
Under 18's are welcome until 20:00.  We are dog friendly.